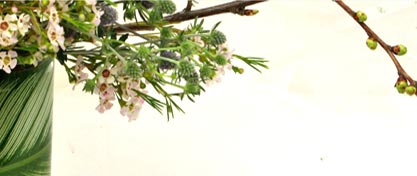 Angeluck Floral and Plant
Services Menu:
Wedding Flowers »
Event Flowers »
Custom Floral Designs (Western and Japanese Style) »
Office Plant Rentals & Eco Friendly Soiless Hydro Plants»
Funeral Flowers (Western and Japanese Style) »

---
Click on any of the links above to read much more information about our beautiful wedding flowers, event flowers, custom design, office flowers, and funeral flowers, all delivered to the South Bay, Torrance, Lomita, Gardena, Redondo Beach, Palos Verdes, Manhattan Beach, Hermosa Beach, San Pedro, Long Beach and Santa Monica, Venice and all western Los Angeles.
---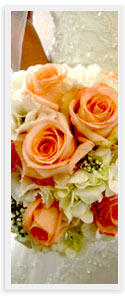 Wedding Flowers
For your special day
*Bridal Bouquet - Wedding flowers held by the bride.
*Boutonnieres - Worn by the groom and groomsmen.
*Headpieces - Head wreaths worn by the bride, bridesmaids, and flower girls.
*Pew Decoration - Bows and flowers that decorate the attendees' seats during the ceremony.
*Altar Flowers - Make the altar a focal point.
*Table Centerpiece Floral centerpieces for each guests' table during the reception.
*Main Centerpiece For the bride and groom's table. Long, low with slightly bigger flowers.
*Cake Table Decorations Gorgeous floral decorations for the tabletop or the wedding cake itself.
Read More About Our Wedding Flowers »

---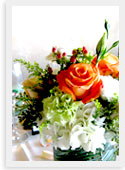 Event Flowers
Our experience ranges from small bouquets for piano or dance recitals, birthday celebrations, and bridal showers, to large scale stage arrangements for concerts, commercials, and movies. By combining our ideas and experience, the sfloral arrangements we create for you will make memories that last a lifetime.
Read More About Flowers For Events »

---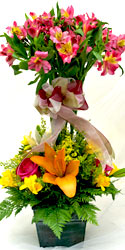 Custom Designs
Our custom designs are the fruits of the unique creativity that Angeluck has acquired over many years. Whether the occasion is for a celebration, birthday, thank-you, get well, sympathy, or just to say hello, the recipient is sure to enjoy.

Let us know the colors, style, and budget, and we can design something for you on the spot. All of our designs are made to order, so you won't have to worry about getting yesterday's leftover bouquet or centerpiece. We have received great reviews about our wonderful unique designs from many satisfied clients.
Read More About Our Custom Floral Design »

---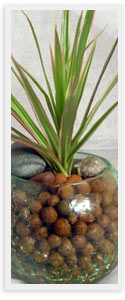 Office Flowers
We will determine the best plants for your office based on your interior design and lighting. Rental plant service includes weekly maintenance.
We also offer flowers delivered to your reception desk every week, and can deliver flowers to your clients and can provide flowers for company parties, corporate events, Christmas parties, promotional events, and presentations. Folding tables and padded folding chairs are also available for rent.
Hydro Plant is a new way to grow indoor plants using glass vases and no soil. It is "eco-friendly," and uses a glass vase imported from Europe to maintain a bright office ambience.
Read More About Our Office Plant Services »

---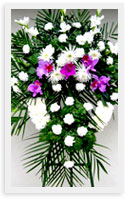 Funeral Flowers
Casket sprays, standing sprays, and memorable altar decorations. We use flowers to create a lasting final memory for you and your loved one. The loss of a loved one or a friend is often sudden and unexpected, but you can give us a call anytime. We are prepared to make late night deliveries, and we take pride in being able to adorn a person's final moments with our floral designs.
Read More About Our Memorial & Funeral Flowers»

---