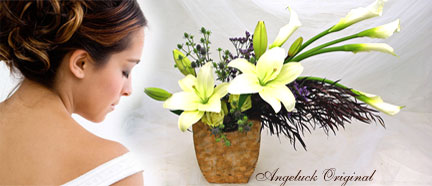 About Us
Our Global Floral Training »
First Shop / Celebrity Clients »
Television Work »
The Million Dollar Funeral»

---
Our goal at Angeluck is to provide our clients with superb floral designs using the highest quality flowers of the season that we can get our hands on. To achieve this goal, we created a business model that differs from the traditional florist shop: we do not operate a retail flower shop. The decision was based on two ideas: flowers are live, much like fresh produce, and we want to create the best floral gifts that our clients have ever encountered.
Though we do not have a flower shop where customers pick from a limited selection, our highly experienced staff with a great sense of design will deliver floral creations that are the season's best. Flowers are seasonal, and thus hard to offer the same variety and style all year round. This is why we select flowers for our customers' designs only after receiving the order, and our designs change with every season.
Please feel free to contact us with your requests regarding the design, colors, and the flowers used so that we may create a special floral design that you will enjoy. The Angeluck promise: to deliver happiness and smiles with our fantastic floral creations.
---
The story behind Angeluck
Born into a florist family, I have been surrounded by flowers all my life. I attended the florist training institute in Tokyo, and am trained in traditional Japanese floral arrangement, as well as American and European styles. Thanks to my extensive training in Japan, the U.S., and Europe, I have won several floral competitions over the years.
Angeluck's first flower shop opened on Melrose in 1990, and we have had many celebrity clients including Eddie Murphy, Michael J. Fox, Leonardo DiCaprio, as well as many Japanese celebrities enjoy our unique floral creations. More About Our Floral Background »

---