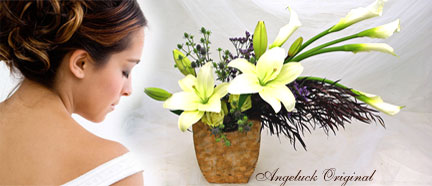 Frequently Asked Questions
Angeluck is not an ordinary florist. We strive to deliver stylish floral designs using only high quality, fresh flowers by scouring the flower markets for the best flowers of the season. To accomplish this, we have strayed from the traditional business model of flower shops, and we no longer operate out of a flower shop where customers can come and choose flowers from our selection. However, our dedicated staff with many years of experience and great sense of design will deliver a fantastic design to you that uses the best flowers of the season.
For a florist to not have a shop may sound a little stubborn and extreme, but there are 2 reasons for this. The first is that flowers are essentially perishable items. Secondly, we want to deliver floral designs that are better than any other florist.
Everyone has had at least one disappointing experience when shopping online for flowers (or anything, for that matter) where the picture was different from what was actually delivered. Flowers are seasonal, like fruits, and that means that their availability or quality can vary from season to season. We can of course take in to consideration what type of flowers, colors, or designs you'd like us to deliver, and we encourage you to please contact us so we can work with you to come up with floral designs you will enjoy.
What does "Angeluck" mean?
We got the idea from "angels," who are said to bring happiness and love, and our goal is to bring joy to many people. We combined ANGEL and GOOD LUCK to come up with "Angeluck."
How do you keep your prices so low?
Until a few years ago, we ran a traditional "flower shop" in Los Angeles for about 7 years. We have redesigned our business model and now operate out of our office and warehouse. Running a flower shop means stocking a large amount of fresh flowers that are thrown away when they are no longer "fresh." It's wasteful, and the loss is eventually passed on to the customer through high prices.
It's a different experience for our customers who enjoy picking out flowers at the store, but we believe our model is the best to maintain freshness and low costs. We now only keep flowers that we will use for that day, and rarely have unused flowers that need to be thrown out.
What is the main difference between
Angeluck and other florists?
Our fresh flowers and stylish designs keep Angeluck one rank above the rest. As the shop owner, I am a bit stubborn, and will not create floral designs that are ordered as gifts that compromise quality and freshness. Our designs are created after we receive your order, and never beforehand.
Flowers are like fresh produce, and the market availability needs to be monitored daily. These days, most flowers are imported, but at the flower market, I can feel the seasons even here in sunny Los Angeles.
In order to satisfy our customers, I believe it is important to find the freshest, highest quality flowers of the season, as well as a stylish vase or container. One of my regular customers once told me it's almost like I'm running a high-end restaurant with a menu that changes daily. He likened me to a chef who will not compromise his standards and pursues high quality.
You will find a photo gallery on our website, but please keep in mind those are general ideas. We can create original designs suited for all your needs, so please contact us. We keep our stock at a minimum in order to maximize freshness, so contact us early if you have questions or if you need to place an order.
What if I have a last minute order
that I need delivered today?
In general, we can usually accommodate your order if you call us in the morning (Pacific Standard Time) since we often sell out of flowers by the afternoon. Our stock is low in order to continue delivering fresh, high quality floral designs to our customers.
Do you purchase your flowers
from a different source than other florists?
Our flowers are purchased from the same source as other florists, but we are very strict about quality control. At times, we will go to the flower market at 1AM to ensure we can purchase flowers that are of the highest quality. The quality can differ even if the flowers are of the same variety and in the same bucket. Flowers available only in low volumes often sell out by 5AM, but we are willing to go early to purchase them. The designer himself hand picks the flowers; we do not outsource our purchasing to others.
Where do you deliver?
We deliver anywhere in the United States, and to most countries. Local delivery is limited to Los Angeles, the South Bay, and Orange County. If you have questions, please contact us.
I want to know more about the designer.
I have studied under masters in Holland, Tokyo, and Yokohama, and have won several floral competitions in Japan and the U.S. by incorporating modern cutting edge designs. Over the years, my floral designs have won the hearts of Japanese and American celebrities. Small or large, I carefully design and craft each of my creations with love.