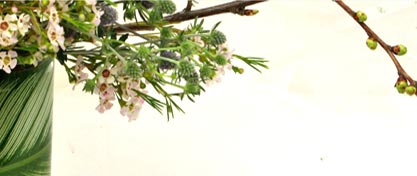 Custom Design
Custom Floral Design »
Our Floral History »

---
click one of those links for details on our unique original designs including: Arch Garden, European Square, Jewelry Box, Zen, Fluffy, Topiary, Spray Shape, Vase Design, Hawaiian Tropical, Round Arrangement, Fan Shape, and High Style Arrangement. Starting at $35.
---
Arch Garden
This design is characterized by a beautiful green arch. The concept for this design came from memories of a trip to a park in Canada. I envisioned a leisurely afternoon in a garden with various flowers in bloom under a green arch. This design is a miniature garden that is horizontally long, and will look great anywhere.
European Square
This is a typical European parallel style design. It's modern and simple, yet still retains a sweetness. Larger scale arrangements will have quite a bit of volume, and a very stately feel to them.
Jewelry Box
This design looks as though flowers, nature's jewels, are overflowing from a jewelry box, and you will feel the power of life through beautiful flowers. The custom made basket is made from Japanese wisteria, and the overall feeling of the design will depend on the type of flowers used, such as lilies, roses, or seasonal flowers.
Zen
An asymmetrical, simple design popular among men and those who prefer stylish designs. With its ikebana-like (Japanese floral arrangement) slanted lines, this design will mesmerize those who lay eyes on it. Stones, moss, and branches are incorporated, much like a garden at a Japanese temple. It is a design that grapples with the basics of Japanese aesthetic sense. The popularity of Eastern culture is on the rise; why not own an authentic piece for your living room or bedroom?
Fluffy
Very cute and round feminine design that incorporates the round features of carnations. Much consideration went into how to express the epitome of "cute" with flowers, and it is one of our ultimate designs. From the decorations on the basket handles, to the tulle fabric, and fluffy wax paper layered to look like a frilled skirt, everything about this design is soft and fluffy. It is our most popular design among women.
Topiary
An ancient Roman style that goes well with modern designs, this style has been consistently popular among our clients. Its popularity has lasted through several centuries, and it's also a style that you won't get tired of, so it looks great anywhere. Some of the reasons for its popularity are the ease with which we can change the flowers, seasonality, volume, and level of cuteness or stateliness.
Spray Shape
Roses have the power to brighten and enrich the hearts of those who view them, so this design incorporates the use of many roses. It looks like a bouquet was placed on a basket, and is absolutely gorgeous and mesmerizing. Angeluck uses two dozen roses for the large spray shape, and women have been voting the spray shape as the number one floral design they would like to receive.
Vase Design
Floral design in glass vases has recently been gaining in popularity. Water in a clear vase gives it a fresh and clean look, and the flowers last longer than other designs. Although a vase full of roses is simple yet gorgeous, a design that incorporates a tall vase is perfect for very spacious or high-ceilinged spaces. This is one of our arrangements that allows for volume and height without detracting from the design, and is a popular choice for large parties and events. Variations on the vase design include cube vases and funky vases, which are popular as centerpieces for wedding receptions. Branches and greenery can add a dramatic twist to the design, much like how Angeluck is known for delivering floral designs that are a rank above the rest.
Hawaiian Tropical
Our tropical flower arrangement gives off an exotic feel with its vibrant colors and passionate design. The red and yellow colors and exquisitely unique shapes will enthrall those who lay eyes on it. Each arrangement is carefully designed, as the flowers are large in size and may throw off the balance of the design. Tropical flowers such as anthuriums or heliconias go well with orchids, and are like the kings of flowers. The flowers last long, so the arrangement can be enjoyed for a long time as well.
Round Arrangement
A totally round shape to fit any occasion. We first create a very cute, round design, and fine tune it to its perfect roundness. Angeluck is never satisfied with a regular design. We strive to constantly deliver great shapes.
Fan Shape
No other design goes so well with celebrations, memorial services, and other ceremonies. This fan shaped design will be sure to convey your feelings, even in spacious venues such as a large concert hall or a college graduation.
High Style Arrangement
We call designs that take into consideration the balance of the final product, "high-style" design. It includes all free-form designs that include a metropolitan-like combination of balance and sophistication. Ikebana (Japanese flower arrangement) techniques are utilized for branches and grass, and the placement and choice of flowers incorporate European design and style for an ambience that only Angeluck can create.
Back to Florist Service Index »
---
The Story Behind
Our Custom Designs
My experience and clients are global, spanning Japan, the U.S., and Europe. After studying at the florist training institute in Tokyo and under Japan's top charismatic floral designer, Kao Ikeda, I went on to study traditional Japanese floral arrangement, ikebana. While studying ikebana, I gained a deep respect for nature and purity that makes up for more than half of my designs. I also traveled to the U.S. and Holland to study other types of floral design. My extensive experience allows Angeluck to provide the perfect custom design to suit your needs. Celebrities that have enjoyed my custom designs include Eddie Murphy, Michael J. Fox, and Leonardo DiCaprio.
Read More About Our Background in Flowers»
---