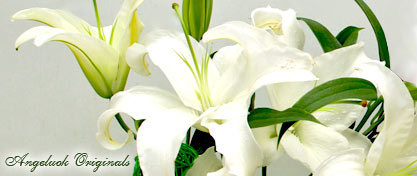 Funeral Flowers
Read here about our memorial floral arrangements, standing sprays, Japanese style altar decorations, and the story behind our funeral flowers.
Arrangements
Memorial flower arrangements can be quickly delivered to churches or mortuaries, depending on your needs. Only flowers of the highest quality and freshness will be used to create these arrangements. Starting at $50.
Standing Sprays
Standing Sprays are one of our most popular requests for memorial services. Our standing sprays are large, and can be made extra gorgeous or somber; it's all up to you. We will create a design that will showcase your loved one's personality, using flowers of only the highest quality. Starting at $100.
Japanese Style Altar Decorations
Also called Flower Slope Altar Decorations, for the beautiful field of flowers. Most people, with their busy lives, have never had the luxury of being surrounded by countless flowers. With our beautiful altar decorations, you will be able to give your loved ones such a luxury. They paths they chose during their lives have surely brought happy moments such as marriage, having children, achievements, and careers.
The concept for our altar decorations comes from our wish to convey our clients' feelings of appreciation and love for their loved ones. Flower slope altar decorations incorporate a large photo of your loved one to be placed in the middle of a "field" of flowers, designed in a slope on the altar. Using your loved ones' favorite flowers, we can design the decorations to fit their personalities. Awards and trophies can also be incorporated into the design, to showcase your loved ones' achievements.
We can create the design in our studio and reassemble it at the funeral location, or create the design from scratch at the funeral location, depending on your needs. Reassembly saves time and ensures the funeral will start on time. After the service, our staff will create small bouquets for the attendees to take home. We feel that is a great way to memorialize a loved one. Starting around $2500. Please call us for details.
Back to Florist Service Index »
The Story Behind
Our Funeral Flowers
Many years ago, I was chosen to create a floral design for a memorial service of a prominent medical professional in Japan. The family requested a design that exuded grandeur, but only used white chrysanthemums; this proved to be quite a challenge. The memorial service was held at a huge arena, and I worked long hours alongside flower craftsmen and carpenters, at times disagreeing with each other regarding the direction of the design.
The finished design magnificently evoked images of nature's grandeur such as waves or a mountain range. The total cost of the memorial service was over a million dollars. That may sound overly extravagant, but I believe the family's final gesture of appreciation towards their loved one was effectively conveyed. Read more »
---